| | | | |
| --- | --- | --- | --- |
| Recipe for Garlicky Caesar Salad | | | |
Written by mary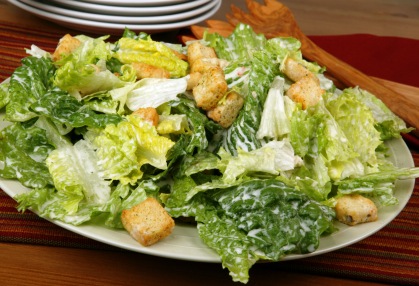 This authentic Caesar salad gets a flavor wallop from large doses of chopped garlic and anchovies. The creamy dressing is made with raw egg yolks; if you prefer an alternative, coddle the eggs by placing them in their shells in boiling water for 3 minutes.

1. In a large wooden or ceramic bowl, mash the chopped anchovies and garlic to a paste with a large wooden spoon. Whisk in the lemon juice. Whisk in the egg yolks and stir in the grated Parmesan cheese. In a slow, steady stream, whisk in the oil until blended.

2. Add the romaine, croutons and pepper to the dressing and toss to coat. Add the Parmesan shavings and toss lightly. Transfer to bowls, garnish with the anchovy fillets and serve.

Note: To make basic croutons, toss stale bread cubes with melted butter. Spread on a baking sheet and toast in a 350° oven for about 10 minutes.


Favorite (308)